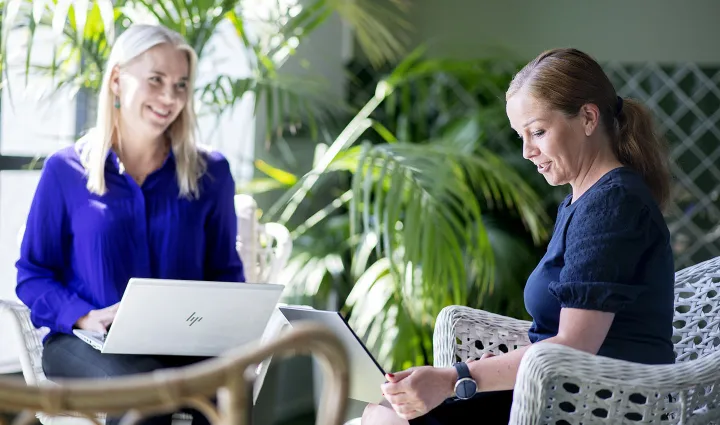 A good co-operation with Lindt & Sprüngli in the Nordics
A collaboration that extends across the entire Nordic region and includes both payroll and accounts payable.
You've probably enjoyed their luxurious chocolates, but do you know their accounting? Accountor has full knowledge after working together with Lindt & Sprüngli since 2010. A collaboration that extends across the whole of the Nordics and includes both payroll and accounts payable.
Number 1 on the global market for premium chocolate
What began with a small confectionery shop in Zurich in 1845 has grown into the global brand that most people think of first when they think of premium chocolate. Today, Lindt & Sprüngli sells its chocolate in stores worldwide.
Marja Edin is an accountant at Lindt & Sprüngli in Sweden. When she worked as a controller at a company in the same building as Lindt, she became curious about the company, not only because of the delicious chocolate, but the good atmosphere in the office. When the position as a Finnish-speaking accountant was posted, Marja applied, got the position, and has now been employed at Lindt & Sprüngli for eight years.
Close cooperation since 2010 which now includes the entire Nordic region
As a global chocolate giant, Lindt & Sprüngli has offices in several countries, with its headquarters in Stockholm. A big advantage is that they can use Accountor throughout the Nordics and collaborate with the local offices in each country.
– Since 2010, Accountor has handled our invoice management. Later, we also transferred our payroll as Accountor was present in all the Nordic countries and had a time reporting and travel accounting system that our previous payroll supplier lacked, says Roger Bowald, CFO at Lindt & Sprüngli in the Nordics.
The benefits of having one partner in the Nordics
Using Accountor for their Nordic offices is valuable to Lindt & Sprüngli. They thus get help with tasks that can be complicated with offices in several countries, such as VAT, taxes or questions connected to the opening of a new office. By getting help with the accounts payable as well, Lindt & Sprüngli can trust that their suppliers always get paid on time.
– All accounts payable comes via the invoice system and Accountor helps us scan all invoices and make sure everything is correct. If, for example, an organization number or account number does not match, then they will contact us. If we have accounting issues and need advice, we are also in contact with them, says Marja.
Daily collaboration is the key to success
The collaboration is going well and has been pretty much the same since Marja started, except that she has had a few different contact persons. Marja works in a team together with two others who all have regular, basically daily contact with Accountor. Marja specifically emphasizes daily, regular contact as very important for a successful collaboration.
– The best thing about Accountor is that you get help right away. You quickly get feedback and find out who you should contact for a certain matter. We are constantly helping each other and it works very well.
Curious about our services? Contact us today