Mepco log in will be even more secure for Client users
In future, logging into Mepco system is even more secure than before. This is thanks to a two-step authentication, which Accountor will launch for Client-users.
The two-step authentication is already a familiar feature for many of us and it is easy to use, too. This is how the logging into Mepco proceeds with the two-step authentication:
Start logging into Mepco in the web address saas.accountor.fi

The system asks for verification. The two-step authentication method in Mepco system is a phone call.

Mepco calls you from the number +1 855-330-8653. Take the call and press #.

When the authentication is done you can log into Mepco system
Update your phone number for two-step authentication
To be able to use the two-step authentication please update your phone number:
When in Mepco go to Employment tab (image below).

Ensure that you have your phone number either in "Work phone" field or in "Mobile phone" field.

You can type your phone number in free format but please make sure the country code is included (e.g. +358 40111 1111 or +358401111111).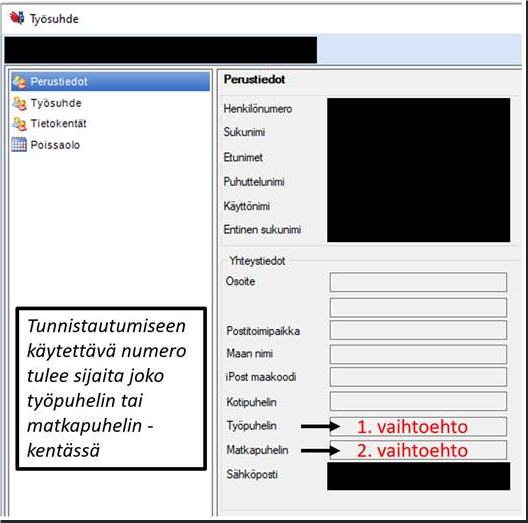 If you use Mepco but are unable to enter your phone number, please contact the primary Mepco user of your employer.
When the new secure authentication will be launched it is only possible to log in to Mepco with the two-step authentication. Please update your telephone number according to instructions to be able to log in also in future.
Thank you for your co-operation.