UX Designer Hazal appreciates sharing knowledge – read about her workday
Accountor Finago's UX Designer Hazal Alkan was drawn into the world of design because it combines three things: creativity, logic and understanding people. Her passion is to solve and make sense of problems, which is a key part of design. What does this mean in practice? Read what Hazal's workday looks like. 
09:00 Start the work day 
To start the day, I plan the day ahead. Which tasks will I work on? 
Today my focus work time will be mostly in the afternoon. Now, I try to finish smaller tasks before the meetings.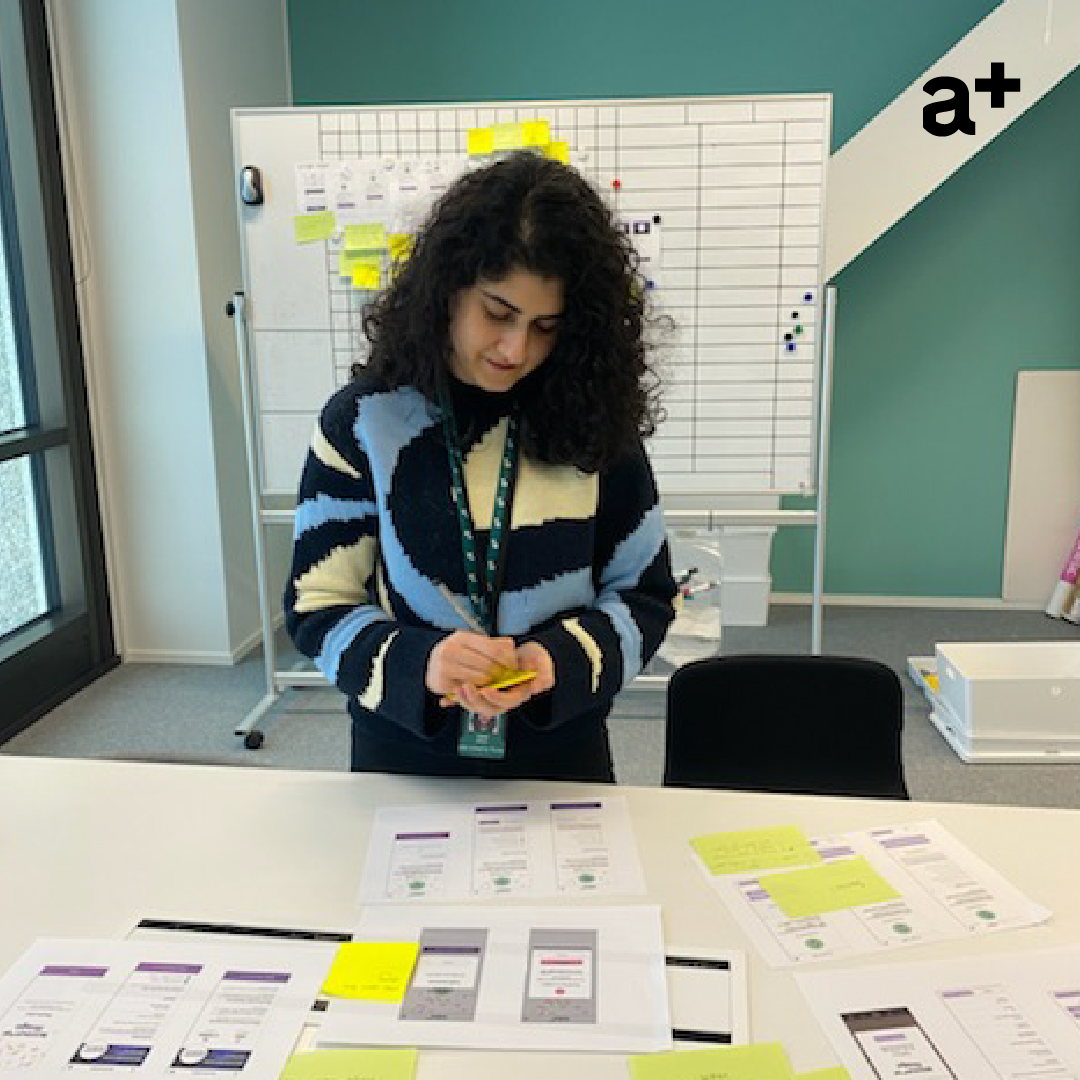 10:00 Design sharing & feedback 
On Wednesdays, we gather as a design team and show and tell briefly what we are working on. We have a visibility of everyone's work. At the end of the meeting, if someone needs feedback or has a question, we try to help. 
 11:00 Scrum team daily 
After the design sharing, I hop on to my scrum team's daily. Here, we tell what we are working on today. Rather short meeting, with some small, fun talk as well. Lately, we have been playing the game Wordle and sharing our results. 
After Scrum team's daily, I take a lunch break.
12:30 Design weekly 
Every design weekly starts with a check-in question by the facilitator. It helps to warm up people to participate and get to know each other on a personal level. Today I am the facilitator and my check-in question is "What is the topic that you are most curious about its future?".  
Every week, somebody needs to give a short presentation. The presentations are generally inspirational/thought provocative/informative. Today's presentation was about Product owner & UX designer collaboration methods. 
We talk about news, updates, projects, or anything worth mentioning. We ask questions, talk about new initiatives, and improvement areas for our work and team. Every member can freely add agenda items.
14:30 Break 
Before I start my focus work, I take a short break to clear my thoughts to focus better. 
14:45 Focus work  
I am currently working on a feature improvement.  
For this feature, we have already identified user and business needs. I have done several iterations based on interviews and usability testings. In my work, the ability to work with many different people and a desire to understand how they interact with the world is a must. 
I am now fine-tuning the design and the prototype. Tomorrow, we will refine the development tasks and discuss the design with the team. We still need to revise the text in the design to make it clearer and more precise. For this, I am going to organise a small workshop with the product owners next week. 
17:00 Finish the workday 
At the end of the workday, I write down today's accomplishments and update my to-do list. It was a quite productive day, now it is time to relax.