Relationship with the accounting partner tested in crisis and everyday life alike
The owners of Suomen Akut Oy will never forget that April night: a fire destroyed the company's entire central warehouse. Many an entrepreneur would have folded, but CEO Kari Rautionaho picked up his phone to call his accounting partner Accountor and began organising things. Now, the fire is merely an unpleasant memory and the company is happily on a growth trajectory again.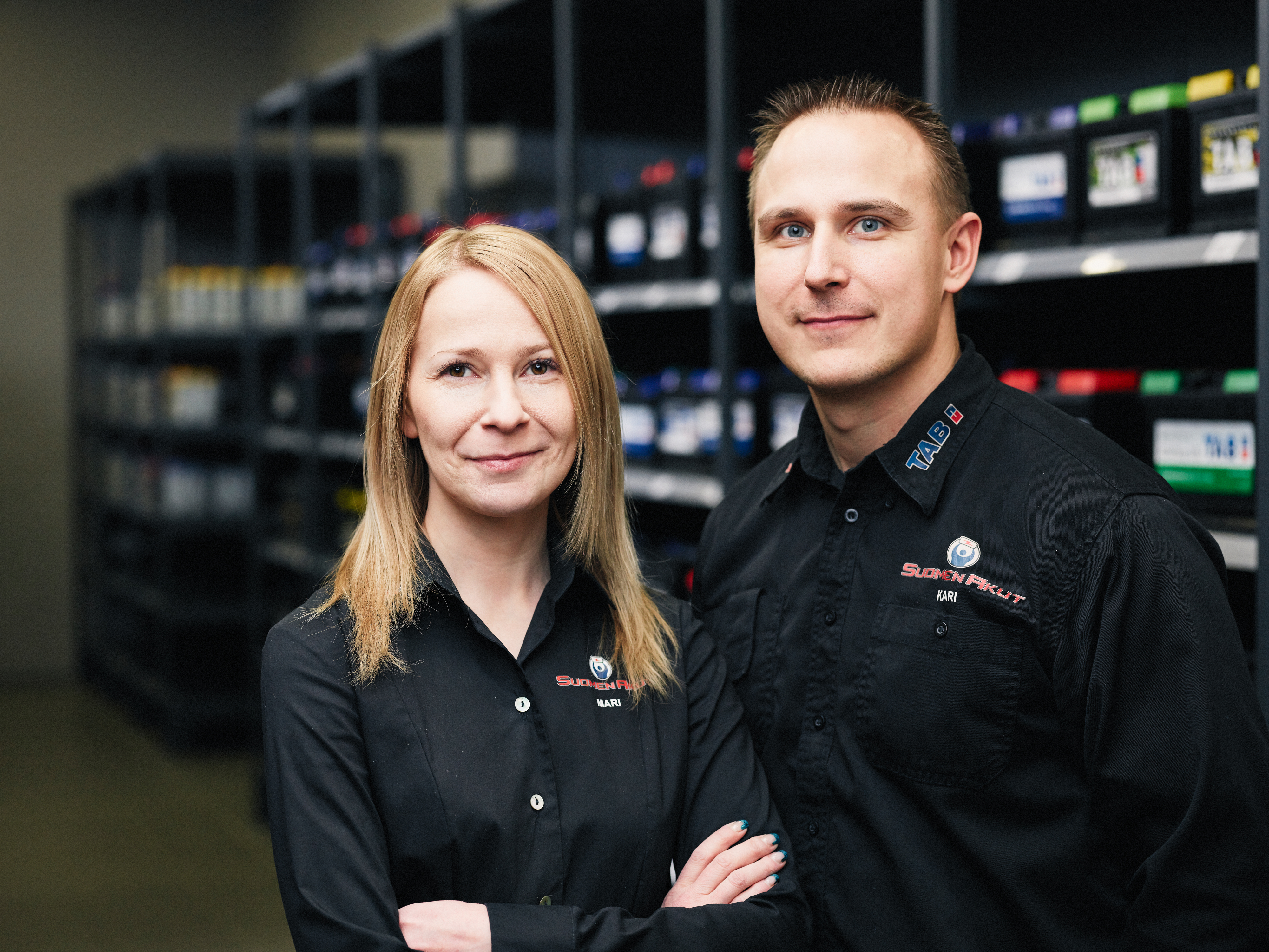 Suomen Akut Oy is a Rovaniemi-based family business that specialises in importing and retailing accumulators, batteries and related accessories. The company has stores serving consumers and businesses in Tampere, Vantaa, Savonlinna, Jyväskylä, Kuopio and Rovaniemi, as well as an online store that serves customers 24/7.
The company's turnover is growing rapidly, and the plan is to establish ten more stores across Finland.
The fire destroyed the central warehouse completely
The company's growth would have been even more immense had it not been for that dramatic night in April 2019.
"An electrical fault in the ceiling caused the fire in the Rovaniemi central warehouse. The warehouse burnt to the ground, and we were left with no accumulators or batteries whatsoever. The adjacent store suffered water damage as well," summarises Rautionaho.
The fire was the worst possible setback for the company. At first, the whole thing was difficult to even comprehend. Then the company rolled up its sleeves and began calling its key partners, the first one being Accountor.
"We talked with our contact person Mira Aikio and went through all the things that we had to take into consideration. Our database was destroyed in the fire, but luckily, we had already done our accounting for February, and the sales reports for March were on the office desk. We dried the documents and extracted the necessary information from them. Together, we made sure that no sales information or ledgers were left out."
The accounting firm proved immensely useful, especially when dealing with the insurance company. When applying for compensation, it is important that all information is accounted correctly to prevent additional fees from being charged later for the compensation.
The crisis served as a lesson on information security and speeding up invoicing
"As surprising and awful as the fire was, it taught us a couple of things. An entrepreneur must protect their database so that it can't be lost. Business information must be transferred to a cloud, so that it will be protected even if the server is destroyed by water damage. Another lesson had to do with sending invoices on time. Instead of collecting them, they should be forwarded immediately to prevent them from being lost in a fire and thus remaining uncharged," Kari recaps.
In a moment of crisis, the importance of networks is highlighted further. "The most important group of three was the accounting firm, the bank and the insurance company. They saved our company. You should be in such terms with your partners that you can trust them, ask them for help and join forces with them to solve problems and move forward."
The accounting partner provides an external view on the operations
Suomen Akut and Accountor have been co-operating for more than 20 years, and Rautionaho appreciates the companies' mutually warm relationship. "Together, we are thinking about our company's present day and future, as well as risks and financial sustainability. As an entrepreneur, I'm so deeply involved in our operations that it's good that they can give us an external view on our business operations."
Every three months, the contact persons of Suomen Akut and Accountor sit down to discuss matters that have come up. Every autumn, the companies also join forces to plan the next year's budget.
"They care about our business activities and want to be there to support our growth. I don't have to worry about whether the books are kept correctly and up to date and whether matters are taken care of. Accountor knows our operations and practices, enabling me to focus my attention on our core business."
Easy-to-read specific reports help with financial monitoring every day
Of Accountor's service selection, Suomen Akut employs accounting, payroll services and Accuna reporting. Working time monitoring is the latest addition to the selection.
A growing company must always be up to date on its financial matters. "We are seeking growth and working for it. That is why I must always know at any given time whether we're able to make an investment. I use Procountor to monitor our financial situation every day, and I know exactly where we're at and what is coming."
Rautionaho praises the Accuna reporting system. For example, if the bank requests a report on the current situation, Accuna provides a high-quality specific report. The reports are not only easy to read, but visually impressive as well – another sign of quality.  
Rautionaho describes co-operation with Accountor as worth its weight in gold for his business activities and contact person Mira Aikio as a support person who is always there to help. "I'll call Mira and she always knows how to take care of things. She always finds the answer for me," Kari says. "I get extensive information about all things related to business activities, such as legal matters and taxation. If Mira doesn't have the information, she'll find someone who can help."
A lifestyle worth it
Since the fire, the company has built new and improved business premises in Rovaniemi. Now, the entrepreneur couple can once again focus all of their attention on growing the company.
"Being an entrepreneur is more than a job; it's a lifestyle. My wife Mari and I work around 12 hours a day, and someone might consider our work hard and worry that we may burn ourselves out. However, we like our work, as it's interesting and every day is different. Instead of getting complacent when things are going well, we're constantly working for a greater turnover," Rautionaho says.  
 The numbers do not lie: this couple is successful in their entrepreneurial endeavours.  
These services support the growth of Suomen Akut