Fun with professional challenges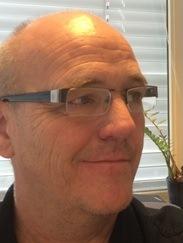 Unique work environment
Bengt Furnes is the deputy chairman of Accountor at Hamar, and has graduated from the office.
WHAT ARE YOUR TASKS?
I am deputy and professionally responsible at the office. I do some accounting; I am responsible for two customers, but spend little of my time on it. However, I have a lot of annual accounts. I work to a large extent as an internal advisor in the office, and have well over the years become a little potato. I help a lot with professional and program technical issues.
What background do you have?
I have to admit that I was not very interested in secondary school and high school, and I cannot boast of good results there. My great passion was, and still is, music. That was probably the main reason why schooling went "to the forest" in youth. But then I was relatively good at the music front instead. I worked in a music store about 20 years ago. I was responsible for keeping the accounts, and had to find out how to do it myself. Jarle, my old manager in the office here (when we were the Accounting Economist and were four employees), needed people, and staffed me on February 10 in 1995. At that time I got the responsibility for simple billing, and was eventually assigned more and more tasks. In 2002 I entered college, where I went for two years with very good results. So there was enough lack of interest rather than abilities that gave me poor results earlier! At the age of 40, I became an authorized accountant, and have regularly taken various courses to keep me updated. Now I am deputy chairman, and I really enjoy it.
WHAT DO YOU GROW IN JOB?
All the way, I have met professional, technical and human challenges on several levels, which is a great motivator for me. I need to challenge myself, and finding solutions to professional and technical issues triggers me. It's fun to succeed, and I get the time and space to do it at Accountor.
WHAT OPTIONS FOR DEVELOPMENT DO YOU MEET AT ACCOUNTOR?
My career path really says mostly; I started with blank sheets and got the education partly through the employer, both with college and relevant courses up through the years. If I feel that I need a course, then I usually get it.
WHAT IS THE BEST WITH ACCOUNTOR AS A WORKPLACE?
Here in the office we have a unique working environment. Everyone here is very different people, which obviously (as strange as it may sound) has helped us to have a terrific environment; We look forward to going to work, we have a very nice tone, and then I think I speak on behalf of most people here. It is also obvious that we have a very skilled boss (in Vidar Østbu), who has helped to create this well-being despite the differences. Here we focus on working as a team, and not sitting on each spring.
ACCOUNTOR HAD BEEN A BETTER WORKPLACE IF ..?
For my own part, I am satisfied, but I see that the salary level in the accounting industry could have been higher. But it is a marginal industry, and earnings may well be better.
What advice would you like to give to those who want to work for ACCOUNTOR?
Create your own workplace, only you can do that. Have an open mind and be sure to clarify what expectations are. It's important to find your own style - in consultation with your corporate culture - and don't expect others to do it for you. You have great opportunities to work the way you want, if you are clear about what you want from the beginning.