An good total overview of our finance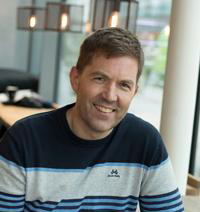 "Flexibility and an innovative accounting and finance system are important to us in a busy day," says Vidar Solbrekke, general manager of The Pitch.
The Pitch is an advertising agency located in Fredrikstad, and with different tasks it is important for them that they have an overview of the order and production flow at all times.
With many projects ongoing, Accountor Online is a good management tool for the economy of the company. This means that they themselves have the overview live. In addition, they have a personal collaboration with their accountant at the Accounting Office in Fredrikstad.
The total solution was decisive The Pitch has been using Accountor Online since 2016. When The Pitch learned about the total solution Accountor Online could give them, it became crucial that they chose to switch to this solution.
"The whole with a good web-based order and finance system, combined with cooperation with our local Accountor accounting office, gives us a complete and good solution."
Everyone involved in the projects keeps track of the flow "We need a good overview of order and production flow at all times. In Accountor Online, both customer contact and project manager can easily monitor the production flow and easily see statistics on sales related to sales, customers and products. "The combination of a cloud-based finance system and collaboration with an accounting office gives The Pitch a safe and efficient solution: "In most cases, we get the invoices ready and digital, right into the accounting system. Combined with follow-up from the accounting and payroll office, we get a complete and effective solution within a proper cost framework.
The employees like to work in the system.  The fact that the employees like to work in the system is essential for the accounts to be properly kept: "The most important thing is that today we use a system that employees enjoy working with. Thus, we ensure a greater overview of the orders and the correct management of these. As a result, we have received an even better overview of orders, and the correct invoicing of our sold goods and services. »