Hire one of Accountor's HR employees on a temporary basis
HR temporary assistance ? You can hire our HR employees for a shorter or longer period of time – part or full time. If you doing business in Denmark, or just starting to establish your legal entity on the Danish market, we are here to assist you with all HR aspects. Accountor can help you with temporary HR assistance.
Our experienced HR consultants will be available with short notice – whether you need HR assistance temporary with a specific task or a long-term strategic HR project.
HR Manager
HR Consultant
HR Coordinator/Administrator
Flexible service – hire an experienced hr employee for the exact period needed
We are ready to provide flexible services tailored to your company's specific needs. You may need an HR Manager half a year full time, an HR consultant a couple a days a week, or an HR coordinator part time – or some other constellation.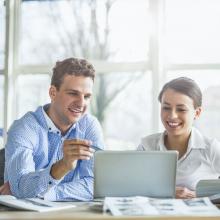 Experienced and flexible HR consultants to provide HR temporary assistance: 
- from HR coordinator to HR manager level
Fixed term contract – you decide the number of hours
Foreseeable costs  – payment per hour or according to a fixed fee contract
Flexible agreement - we adjust the resources according to your needs
Back-up in connection with absence
HR services:
Day-to-day HR administration and coordination
– management of the annual HR cycle of work
Personnel administration, contracts and amendments
HR legal assistance
Description and mapping of HR processes
Optimizing and development of HR processes
On-boarding, recruitment and staff retention
Staff development interviews, courses, job satisfaction measurements, performance
Participation in 'difficult' conversations in connection with e.g. dismissals or illness
Competency assessment and development
Facilitation of change and development processes / organizational changes
Management training
Strategy implementation etc.
Accountor is able to deliver HR consultants with extensive experience within all parts of HR processes and administration
and they are ready to help you from day 1.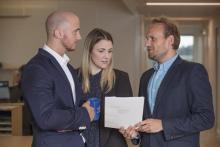 HR temporary assistance - typical process
You contact us
We meet and discuss needs and wishes in relation to employee and tasks
We make a cooperation agreement
You meet the HR employee
Our HR employee goes to your premises –
and starts working on the agreed upon HR tasks from day 1
Our Team Manager follows up on a regular basis to ensure a smooth cooperation
We adjust the agreement, if your need for assistance vary over time
Do you need temporary HR assistance? Write to us below or contact our Sales Manager Carsten Madsen directly