How Did Labor Market in Ukraine Change in 2020?
We shall start by debunking the popular myth that the wave of unemployment in spring and summer 2020 only affected some selected industries, whereas, e.g., intellectual labor force just switched to remote work. As "Ukrinform" informed citing the State Employment Center, people of completely different professions lost their jobs between March to August 2020, and the unemployment rate increased by 67% compared to the previous year. This was a natural consequence, since even the companies that switched to "online mode" rather easily, started losing their regular customers, which could not help but lead to layoffs.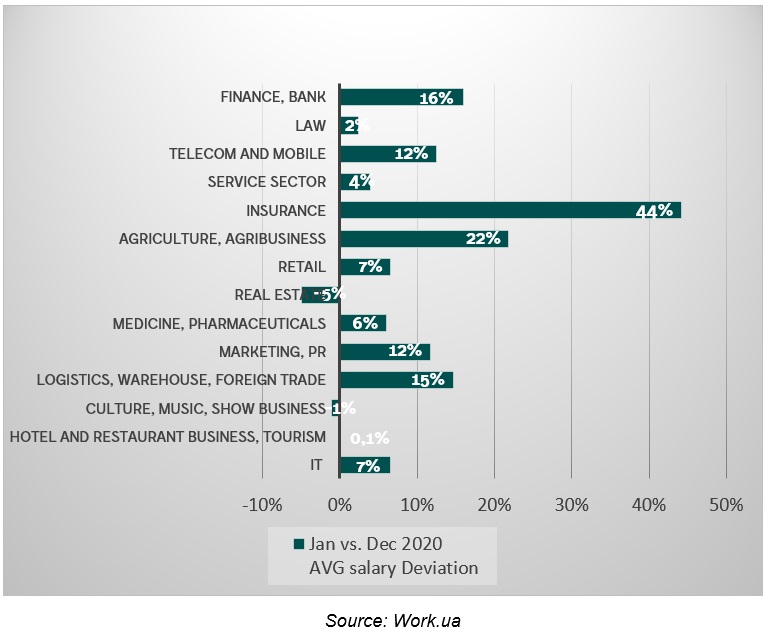 The Ones "With the Shield" in 2020
In general, employers and employees in 2020 went through a process of remodeling their approaches and abandoning their stereotypes. E.g., in March-April, around 27% IT companies' employees were dissatisfied with the "home office mode", and most CEOs refrained from making any long-term forecasts. However, in Q3 and Q4, several IT corporations officially announced their permanent transition to remote work (Jooble, EVO), or to blended work model, whereas working from home would be strongly encouraged (GlobalLogic, N-iX, Intellias etc). Similar trends can be seen in the consulting/outsourcing industries.Today, it is clear that the results of remote work in these areas have definitely exceeded the employers' expectations.
Fluctuations in Average Salaries in 2020 by Industry
As for salaries in the IT industry, according to Work.ua, IT specialists (iOS Developers, Python, C ++ Programmers) earns from UAH 40 to 62.5 thousand a month in 2020. Leading specialists and top managers in the industry expect an average of UAH 100,000 a month. The starting salaries of newcomers are more modest: UAH 20 thousand a month and higher.
The Ones "on the Shield" in 2020
Meanwhile, significant changes have happened to areas that cannot go online, in particular to consumer services, foodservice industry and retail. Due to new regulations, employees must follow the appropriate hygiene-related and social distance-related rules. Relevant work experience, the ability to learn fast and stress resilience are important here, as you have to adapt to new standards quickly while maintaining excellent customer service. It also comes as no surprise that since the beginning of quarantine restrictions, the demand for delivery services workers, drivers and couriers has been growing.
Thus, although work organization methods have undergone dramatic changes, the ability to learn fast and grow, as well as stress resilience and self-discipline are still the skills all employers in all industries are looking for.
Adaptation in Action
The transition to remote work had a dramatic impact on the process of recruiting and hiring staff. Companies had to learn to go through all phases of the recruitment process remotely, including professional skills tests and psychological assessment.  
Accountor Ukraine described the experience of successfully going through remote recruitment processes in 5 MUST SAVE LIFE HACKS OF RECRUITING DURING QUARANTINE.
Despite all the difficulties, we have already learned to live in a world where people "meet" their new colleagues via messengers, and where changing your employer does not mean changing your "physical" place of work. Therefore, all skills (including "soft" skills) related to remote work, e.g. self-discipline, punctuality, perseverance, adaptability, and the ability to communicate effectively under any circumstances, are still in demand.
Used sources
https://www.ukrinform.ua/rubric-economy/3084565-za-cas-karantinu-status-bezrobitnogo-otrimali-ponad-430-tisac-ukrainciv.html
https://dou.ua/lenta/articles/ukrainian-it-during-quarantine-results/
https://ms.detector.media/it-kompanii/post/26121/2020-12-04-ukrainska-it-kompaniya-jooble-perekhodit-na-viddalenu-robotu-z-2021-roku/
https://ain.ua/2020/07/02/evo-perehodit-na-udalenku-navsegda/
https://ain.ua/2020/10/09/kak-it-kompanii-perehodyat-na-ydalenky/